Xpert-Timer Web - your private cloud
Unlimited time tracking on all devices
Xpert-Timer Web is the perfect solution for tracking time on multiple devices. For example you can use a Windows Laptop, an Android smartphone and a Apple computer in your office. In order to save the timestamps your office has to set up a private cloud. All data is saved securely in your main database.
The user access rights in Xpert-Timer Pro control to the individual functions in Xpert-Timer Web.
The big advantage of this web application is that tasks and projects distributed by the head office are immediately visible to the employee. Conversely, the controlling department immediately sees if problems with a project occur and can initiate appropriate steps.
XTWeb is the perfect complement to Xpert-Timer Pro for Windows. Because now you can even use devices without a Windows operating system, such as Mac with iOS or smartphones with Android to record your working hours.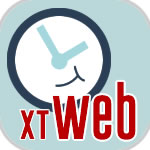 Die Technologie können Sie ab 150,- Euro in Kombination mit Ihrem Xpert-Timer Pro nutzen.
Trial now 30 days for free
Trial the software 30 days for free without registration.
In order to trial XTWeb you need Xpert-Timer Pro in combination with XTCloudserver.
Please contact us in case you have any questions.